Hey there, fellow visitor!
Are you here looking to learn about what is SEO content and how to optimize it?
In this blog, we'll be learning about exactly what is SEO content, why is it so important and the perfect strategy to optimize your content and grow your website.
At the end of this blog, you'll have a very good grasp of SEO content optimization.
What are some key measures that you can use to measure your content success?
In a poll conducted by Semrush, organic traffic was chosen by 76% of participants. The challenging task here is to create content for grabbing organic traffic, which is the biggest hurdle for 52% of marketers.
SEO is abbreviated as Search Engine Optimization and it is coupled with content marketing that goes hand in hand in digital marketing.
For blogging, you need a website that ranks in Google so more and more people visit your site as well as one that works admirably in conversions.
The higher your Google ranking is, the more traffic you will receive. Content quality matters the most.
In this blog, we will also provide you with an exclusive SEO content strategy that will help you organically rank higher on Google.
What is SEO Content?
So, let's start with the discussion of what is SEO and how it works?
SEO content means the content that you write to rank under search results in Google so that it will be tailored for both search engines and visitors.
Now, you might be wondering – What are the 4 main components of an SEO?
Technical SEO
On-page SEO
Off-page SEO
Content
This strategy is used extensively by companies, brands, and freelancers worldwide because it brings substantial traffic and clients to their site.
---
If you're a freelancer who is looking for freelance jobs then we have a detailed video that will introduce the best freelancing platforms present on the internet. You must give all of them a try!
---
After knowing what is SEO content, you also need to understand how SEO content impacts your writing.
Writing SEO content simply means that your content is of utmost quality and originality so that people acquire enough knowledge from your website.
With that, you also need to include keywords and certain key phrases that will enable the search engines to rank up your website.
And that is how, optimizing SEO, helps search engines to show your content in the top results. As a result, your blogs get more recognized.
This is how you can increase traffic and client visits to your website.
SEO might help you earn more revenue from your site than paid advertising if you utilize it properly and accurately.
If you want to earn a good amount of money while sitting at home and working just a few hours a day, then we have a valuable blog for you!

Read our in-depth guide about Freelancer.com!

Freelancer.Com – One Of The Best Freelancing Sites For Freelance Jobs
How To Write SEO Content? – The Perfect Strategy For Writing SEO Content [Checklist]
Now that we've looked at what is SEO content and how SEO content is crucial for your content, let's look at the absolute perfect strategy for it.
We've talked about this topic a couple of times in the past as well as some useful SEO tips.
So let's get into the SEO content guidelines!
1. Research your Keyword(s)
By definition, keywords are words or phrases of great significance. For SEO content writing, these words or phrases are what you type in search engines to extract relatable content. Keywords also help you to drive more traffic to your site.
After knowing the significance of keywords, you might be wondering – "How do I find SEO keywords?"
You may look for paid SEO tools, Semrush and KWFinder if you can afford to pay for them. Semrush charges $99/month and KWFinder charges $29/month.
For beginners, Ubersuggest provides a free SEO tool but features will be limited to the paid version.
You'll need a keyword that's not only important but also has solid volume and minimal competition so you can get a spot in the top Google rankings. Apart from this, long tail keywords are much more favorable to rank on search engines.
2. Go deep and focus on the reader
If you want to get your reader's attention and also want Google's help to rank your site up, provide in-depth knowledge and updated content.
Focus the intention of your writing on your readers, ask them questions, be engaging and be genuine.
The more your readers trust you as well as your SEO content, the more likely they will come back to you in the future.
When you're writing your SEO content, take note of the following things:
Your target audience
Keywords they might search for
What information are they looking for?
Why is it important to them?
While writing SEO content for your blog, refer to different articles or blogs. Use your creativity to form sentences and phrases, DO NOT blindly copy someone else's work.
[Pro tip]: To begin your content research, run a Google search for your main keyword, then check out all the blog that are ranking on the first page, read them thoroughly, and then begin your writing.
3. Create a Catchy H1
You can attract more audiences using a unique as well as catchy H1 tag. But keep note of these things:
Think of a creative H1. It helps your blog standout amongst the rest
'How to' blogs and guides bring 2x more readers than ordinary articles. Make use of words like 'how', 'what', 'why', 'where'.
Include numerics like 'Top 10', 'Top 5', 'The best', etc. These undoubtedly bring 2x more traffic and 2x more shares.
Describe your SEO content title on the H1 tag, or else Google will mark your content as low quality.
4. Content Structure and Readability
To write high-quality content, you need a strong structure and layout. Subheadings make your content more readable and understandable.
No one wants to open the web and see just one repetitive piece of content, right? You're most likely to not continue reading.
According to a Semrush analysis, blogs using H2 and H3 tags perform better in terms of traffic, shares, and backlinks by 36%.
Thus, when you implement H2, H3, and H4 tags correctly, you will organize your content into logical and digestible parts. It will ultimately draw your audience's attention to important user queries.
---
Here is an amazing infographic by Semrush that will help you in creating a reader-friendly structure for your blog.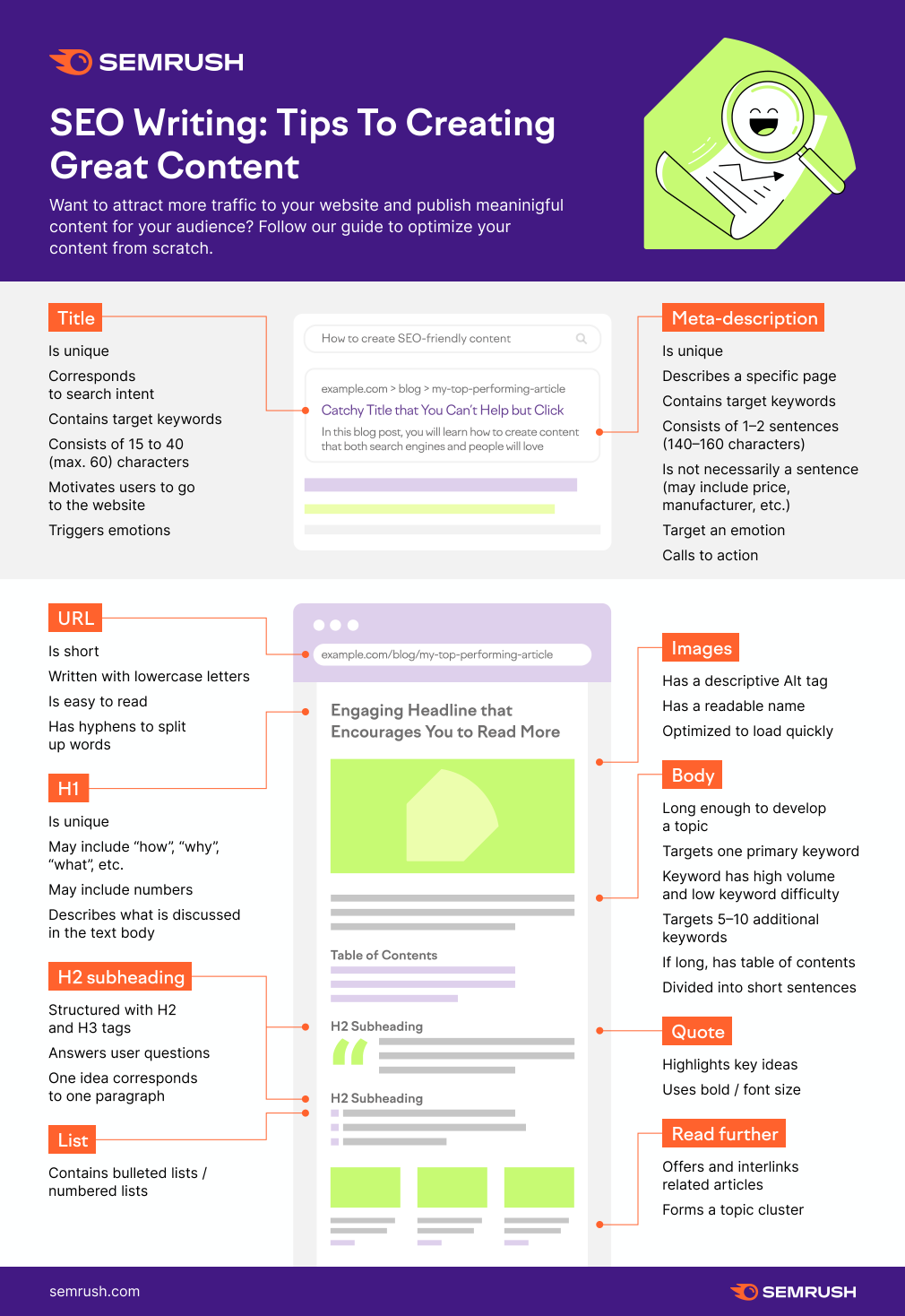 ---
Some tips to make your content easy to read:
Make your SEO content long, if necessary. It's been observed that 2500+ words get 3 times more traffic, 4 times more shares, and 3.5 times more backlinks than usual articles of average length (900-1200 words).
Add 'Table of contents'. A table of contents at the beginning of the blog will help readers navigate through the blog more easily.
Implementing H2, H3, and H4 tags correctly helps your content get more organized and neat.
Bold and highlight important words and links to make them more noticable. It helps readers to extract more from the text.
Don't write very long sentences, instead of dividing them into short ones, just like dividing your content into small paragraphs.
Provide 'key points' or 'steps to be followed' using numbered lists and bullets. It helps your content become more guide-like.
Recommended Read: How To Start Freelancing And Get Freelance Jobs?
5. Add Visual Content
In addition to writing SEO content, images, graphs, charts, infographics, checklists, templates, etc help to make your content more lively and attractive.
Also, in that way, the written information looks more reliable and trustworthy. This way your readers will know that you have done extensive research before writing your stuff.
You should spread your visuals across the entire content. This makes your content look more attractive.
Backlinks from authoritative websites help Google trust your content. Hence, your content ranks higher.
Adding images and videos to your blog post also gets it listed in Google's Images and Video sections, and even get into Featured Snippets and attract additional traffic.
6. Optimize Links
Here are two kinds of links you could use in your content for link building:
Internal: Links back to your own website. These could be a landing page, contact page, or relevant blog post.
External: Linking external sources helps solidify your statements and make your content more trustworthy.
Links are a must-have for SEO content. But be careful. Do not give links to non-reputable sites or which provide out-of-date information.
Include about 1 to 3 internal links for a 1,000-word article, as well as approximately 5 to 7 external links, depending on the content itself.
Recommended Read: How To Write A Resume With No Experience [Ultimate Guide]
7. Make Your URL Readable
You must write a quality URL that appropriately describes the content of your blog. This will make your blog clear to your readers.
Users frequently copy-paste URLs from the web. The URL will act as the anchor text when there is no specified main text.
Users can also see the link in the lower-left corner of the website by scrolling over the text. What's within is explained by a legible URL.
Which of the links would you trust more?
https://www.trial.com/learn/seo-hacks/
http://www.trial.com/index.php?id_sezonne=350&srd=3ag8bc944f41daa6f849f730f1
This is what Google recommends for your URL:
Use punctuation in your URLs, use hyphens (-)
Write a well described URL, including the blog's main keyword
Instead of capital letters, use more lowercase
Keep it short and concise without compromising on the content
Final Words: Become an SEO Content Writing Expert Today!
There you go! No more excuses.
Now that you have every piece of information and tip with you, you can start to practice writing great SEO content.
If you want to expand your business, then it's about time to sharpen your SEO content writing skills.
Creating excellent SEO content for your business website is a difficult task. However, you can improve exponentially if you dedicate the time, go with the flow, and give proper attention to detail.
It requires time, dedication, and skill to manage a strategy that achieves your goals. That's why many people invest in SEO content services.
Once your content has a definite reach, you won't have to waste any time on sales. As a result, your desired audience will come to you!
Good luck with your writing journey ahead!